MORE PICS OF AFRICA & PLUMBRIDGE
NEW YORK CAST 2004
(This is random. My apologies if I left anyone out).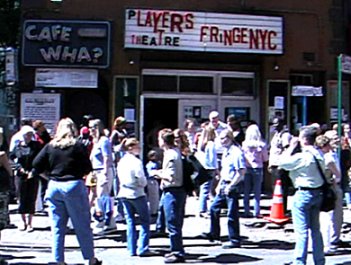 The crowd in front of the Players Theatre talking to the cast
after a jubilant performance. It's fun to hang around a show when
everyone is buzzing and wanting to continue the experience.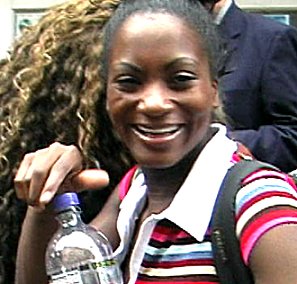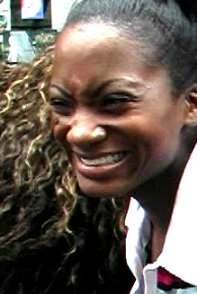 Janeece Aisha Freeman (Africa) talking to fans.
She has an incredible range, able to shift back and forth between
an R&B belt to a "Stephanie Mills" type soprano.
Every solo of hers stops the show.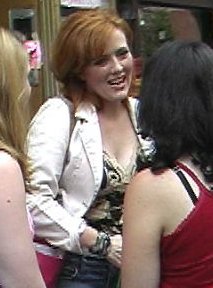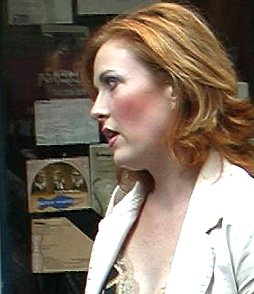 Liz McConahay (Sharon Plumbridge).
Liz McConahay brings an earthy belt and a gritty realness to "Sharon."
A superb actress, she has a terrific sense of comic timing,
finding new laughs at every performance.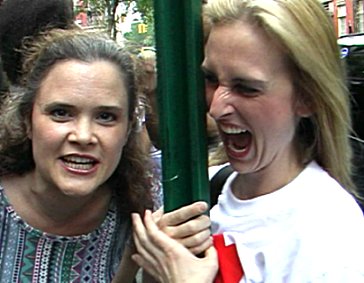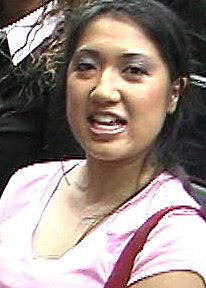 Julie Reyburn, Charissa Armon. Folin Ponce De Leon.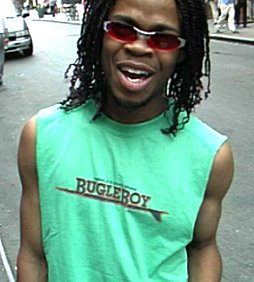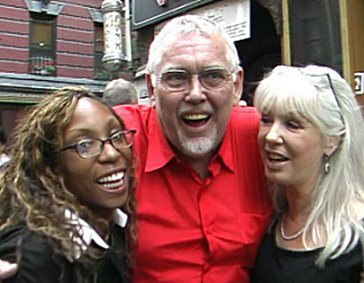 Lepolion Henderson, Africa Carey, Jim Brochu (book), Sue Carey (music & lyrics).
Lepolion I've simply adopted.
He's also going to be a star, I kid you not.
You know, it's funny. But this might be one of the most terrific casts ever assembled into a single show. And there's 16 of them! My god, that little theatre absolutely rocks when they are all dancing and singing together.

AND, they manage to do it while the flimsy light board goes out every night. (Love the Fringe. In festivals, with everyone sharing equipment while zipping in and out in 15 minutes, you have to always be prepared for constant equipment breakdown.)

But even better than the lights blinking out or on at random, if you sit way down front house right, you can see over into the wings where the musicians are playing. In order to turn the house lights off, Ritt Henn the bass player has to give Mark Janas his bass guitar. Then he stands up on a chair, bends WAAAY over sticking his butt way out, the house lights go to black in an instantaneous "CLUNK!" and he climbs back down, gets is bass and they start the show.

This is REAL theatre, to me. Where you are constantly on the edge, not knowing what's going to happen next.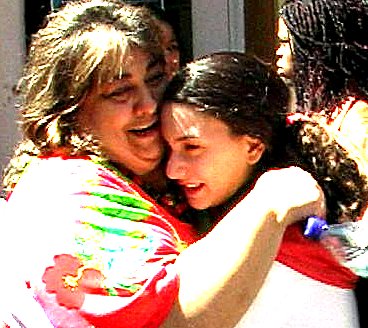 Composer/lyricist Karena Mendoza hugs Rachel Cerrone.
Sue and Karena's score is luscious with melody.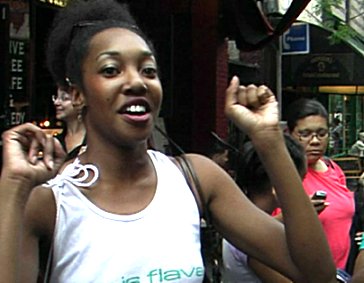 Sharyon Culberson has the greatest eyes, especially for the stage.
She is also a beautiful dancer.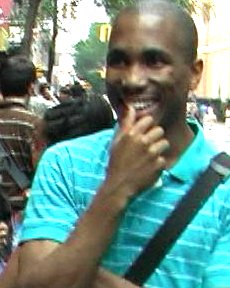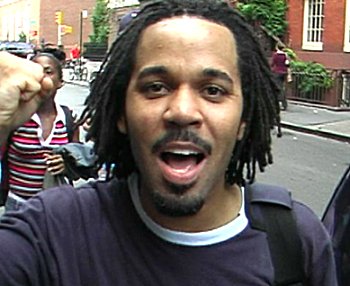 The studs. Eric Anthony has girls falling all over themselves.
He is also a GREAT dancer and totally charming onstage.
Chipper Cooke tears down the house in his big solo, "Higher."
It always totally stops the show.
This guy should be doing leads on Broadway.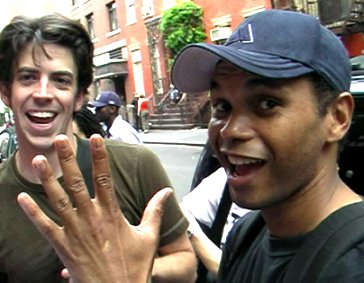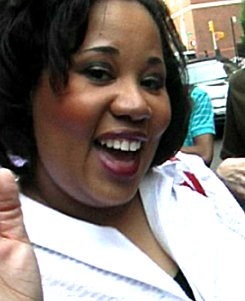 Jim Meade, Gerald Richardson.
Monique Whittington.
Monique is an actress, gospel singer from Chicago.
Her duet with Janeece on "Zulu Lullaby"
is transcendent.